Happy New Year from Calaméo!
To kick off the year, we've prepared a few ideas for digital publishing New Year's resolutions. These good habits will help your online publications reach the best of their potential all year long!
Polish your account page
Take five minutes to update the information in your Calaméo account page. By making sure that your account name, website and description are as accurate and relevant as possible, you can quickly and easily boost your business's digital presence. (Remember to use your logo as an avatar, too!) Optimizing your account page will help you take advantage of our SEO and allow more readers to find your digital publications.

Publish regularly
In a digital world brimming with content, it's important to establish consistency for your online publications. If your audience knows when to expect your publication, they are more likely to make a habit of enjoying it whether you bring out issues weekly, monthly or quarterly. Scheduling your publications in advance on Calaméo can be a powerful tool to manage deadlines and build a loyal readership.
Think big picture
The visual identity of your business is an important part of its online presence. Whether you link to your digital publications on Calaméo or embed them in your own site, you can customize the viewer to ensure a seamless fit between your documents and your brand. First, you can choose the best theme to display your publication or create your own to achieve that perfect look. Next, set a background image or add your company's logo, as in the example below from Espace Publications. Strengthening the visual connection between your digital documents and your business can really help your publications shine!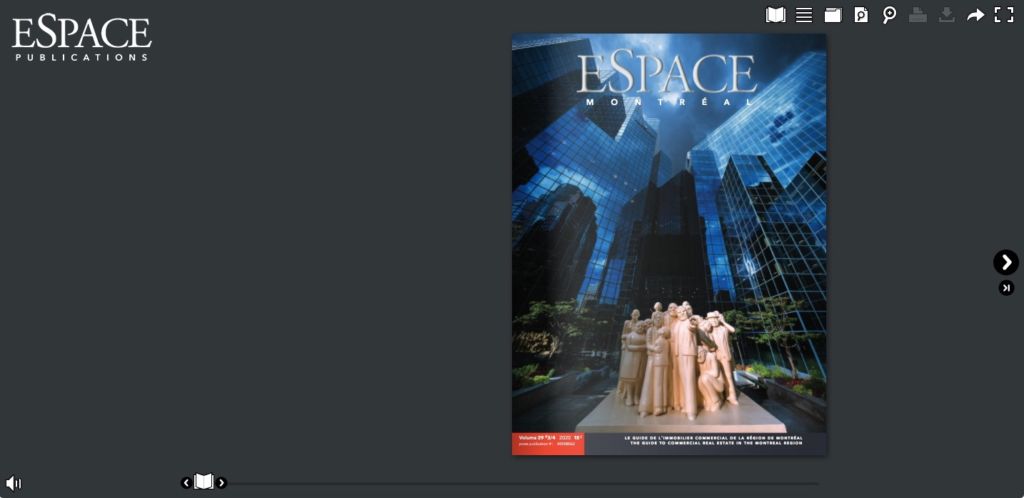 Tell a story
Make good use of social media to get the biggest impact out of sharing your digital publications. Keep storytelling in mind on Facebook, LinkedIn and more! A post on any of these platforms can introduce your publication to the world, so be sure to communicate the part it plays in your business's mission and why your audience should check it out. This tweet from the New York University Alumni Magazine is a great example:
The new #NYUAlumni Magazine is online. Head home with composer @AIMenken (@NYUSteinhardt '72, HON '00), check out the Violets' Guide to Holiday Shopping, learn what #NYU is doing to smooth entry into civilian & academic life for veterans, and more: https://t.co/Pv5CEBKcy2

— NYU Alumni (@NYUAlumni) October 24, 2017
Dig into your statistics
Calaméo's readership statistics provide you with key information about your audience and the success of your online publications. For a refresher, check out our tips for updating your approach to analytics and make a habit out of tracking your statistics on Calaméo in 2018.
With these New Year's digital publishing resolutions, you'll be in great shape to start a stellar year.
---
Have you made your own digital publishing resolutions this year? Let us know on Twitter @calameo! Don't forget to follow us on Facebook, LinkedIn, Instagram and YouTube for all the latest Calaméo news and updates.