More than thirty years after they were first developed, GIFs have proved that they're here to stay. These looping animations have become a major part of modern Internet culture. In fact, 36% of American millennials think that GIFs, emoji and stickers allow them to communicate better than words.
It's clear that GIFs offer a unique way to enrich content and express ideas that is engaging to today's Internet users. But did you know that you can add GIFs to your digital publications on Calaméo with our Editor? In this article, we'll explain how to insert GIFs and suggest a few ways to use them in your publications.
GIFs are a simple but mighty technology that compresses multiple images into a short animation. The file size is smaller than a video, which makes GIFs practical for displaying clips that are just a few seconds long.
Including a GIF in your digital publications is easy. You can either use your own or embed one from a GIF sharing service like Giphy or Tenor.
If you wish to add your own GIF, make sure the file is hosted online and available through a secure URL (https://…).
Once you have decided on the perfect GIF, open your publication in the Calaméo Editor. Navigate to the page where you want the GIF to appear and select the images icon. Move the blue image zone to position your GIF and resize the zone as you like.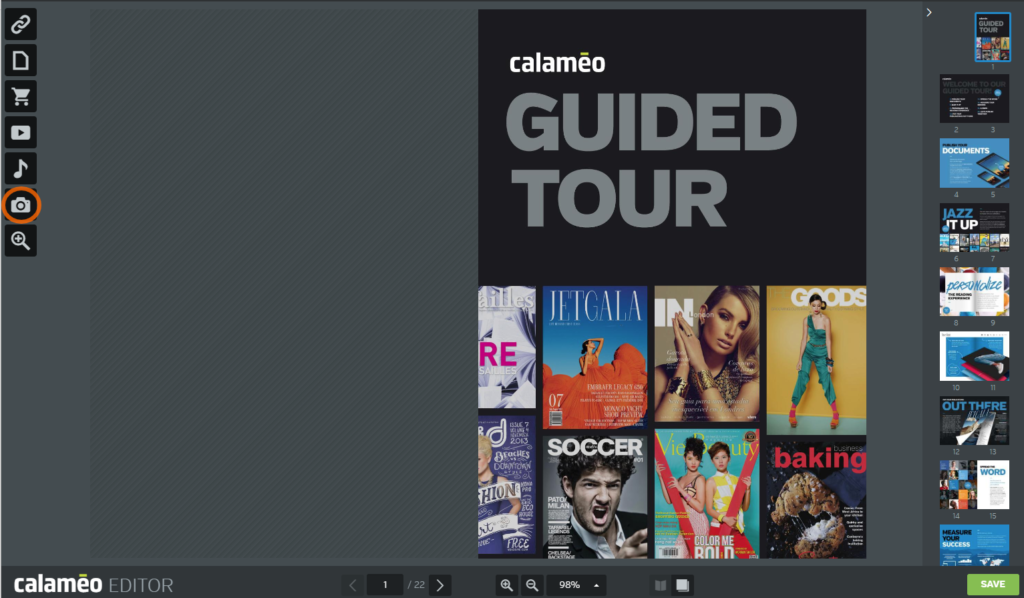 Next, enter the URL of your GIF in the "Image URL" field. When using a GIF hosted on Giphy, click on "Copy Link" and choose the "GIF Link" option to get the correct URL.
To see how your GIF looks, save your publication and select the eye icon to view.
Adding GIFs to your publications on Calaméo is a breeze, but using these eye-catching animations well can be a little harder. To help you get started, here are some possibilities we recommend:
Decoration. Whether you prefer a trendy reaction clip or subtle animated effect, GIFs liven up your page. Avoid including too many to balance visual spice with focus on your content.
Advertising. Businesses are producing GIF ads as the format becomes more and more popular. With Calaméo you can insert advertisers' GIFs into your digital publications for a twenty-first century experience!
Instructions. Does your publication have recipes, fashion tips or decorating ideas? How about charts, graphics or information specific to your industry? Creating a GIF to animate any of these examples transforms your content from words on the page to a dynamic illustration that is fun and easy for your readers to watch.
The sky's the limit when it comes to using GIFs to enhance your digital publications. This engaging and versatile format is a great way to get creative on Calaméo.
---
See what else you can do with the Calaméo Editor by checking out our Help Center. Have questions? Write to us at contact@calameo.com and we'll be happy to help.