Social networks have become an important part of modern business and represent an easy, efficient way to let readers know about your digital publications. But not all shares are equally effective and there are a few simple steps you can take to make sure your publications look their best on social media.
Today on the blog we'll be highlighting quick fixes that optimize sharing your publications for Facebook, Twitter and more.
Add a clear title
The title of your publication has an eye-catching place in a social media post, usually in a larger and/or bold font. Make sure that the title is clear, concise and contains keywords to interest your audience. Avoid including information like the file size and type that may distract or confuse readers.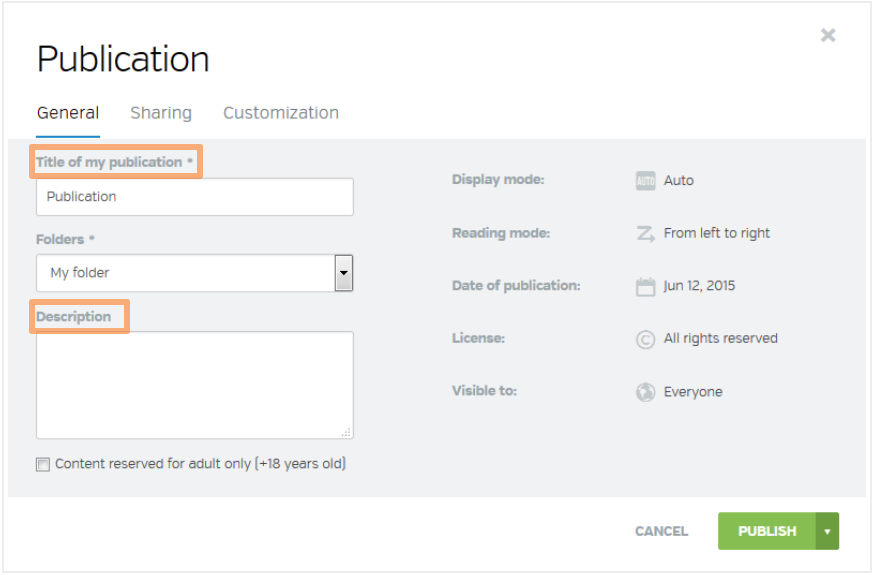 Get descriptive
A short description of your publication is a great way to introduce it potential readers scrolling through their social media feeds. The description text appears in the link preview so make it count! We recommend that you summarize the overall subject of your publication as well as the main contents in sentences, rather than a list. And of course, test your social media post to double-check the formatting—making changes to the description is painless.
Showcase bold covers
Your publication's cover image will be shown in the link preview on social media, which means it should stand out. Unless your magazine has a minimalist look, skip the white background and small title font. Since curious readers can flip through your publication directly in their Facebook feeds and on Twitter, the cover image is a great chance to catch their attention!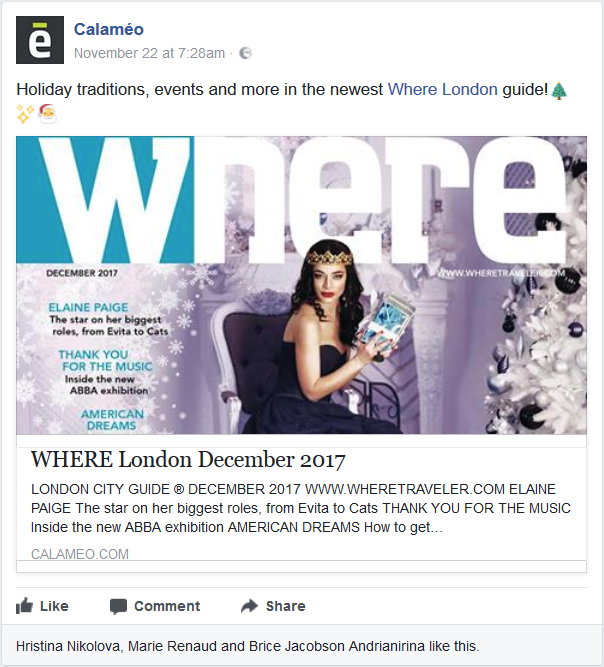 Check privacy settings
In order to share your publications on social media, you first need to verify that they are accessible to the right audience. You can share a private publication that has been authorized for access with a private URL. You may also configure a private publication for subscriber access, an exclusive feature of our Premium and Platinum plans. Your subscribers will then be directed to log in with the unique username and password that you have defined for each of them.
Select link options
Once your publication information is prepared to your liking, it's time to choose which link you want to share. You can either link to the overview page of your publication on Calaméo or embed the publication in a post for immediate reading. Want to highlight a particular section in your social media post? Just add     ?page= followed by a page number to the publication URL to bring readers straight to that page.
💡TIP: If you're sharing a publication on Facebook, try using the Sharing Debugger to confirm that the title, description and cover display properly before you hit post.
Include hashtags
Tags and hashtags are a smart way to let more people discover your publications on social media. A little research will tell you which hashtags related to your business or activity are most popular, while less-used, quirkier hashtags can add personality to your posts. Tagging other accounts or pages should only be used when relevant, such as tagging a business featured in an article of your publication.
With these quick and easy tips you should be well-prepared to make the most out of sharing your digital publications on social media.
We love to see the amazing content our users publish on Calaméo! Tag us @calameo on Facebook and Twitter and use the hashtag #CalameoCreatives on Instagram. You can follow us on YouTube, LinkedIn and Google+, too!