There is no denying that building a subscriber base for your magazines, catalogs or brochures requires a lot of hard work. Especially when similar content can be easily obtained elsewhere for free!
In this blog, we'll reveal to you not only how to grow a strong subscriber base for your publications but how to manage them with ease using Calaméo.
Use Digital Publications
More and more people access their content solely online, so it would be unwise not to have a digital presence for your magazine.
Calaméo offers an excellent Platinum plan, designed specifically for professional use that enables you to convert your print publications into multimedia digital publications. Our exclusive interactive features help to enrich your documents, setting your publications apart from the rest in the digital sphere. Using creative digital content will make your content more remarkable, and thus more likely to attract new subscribers.
Adapt your Content to your Audience
First and foremost, your magazine must be seen as a valuable source of content to your audience, so make sure that your publications are targeted specifically to your readership. For example, the Washington Post maintains that its 'digital only' subscriptions grew 145 percent year over year, partly due to the fact that it broadened the opinion and politics coverage of its newspaper, two areas that the Post's subscribers are particularly interested in.
Be Consistent
No matter what the theme of your content, your readers still need to know that it is coming from you. You can achieve this by making sure that your content and visuals maintain the same look and feel of your brand.
These measures can be put in place using Calaméo by inserting your brand logo and uploading a consistent and professional background image in your publication viewer.
Such steps will help to make your digital publications more professional and trustworthy and as a result, increase your readers' likelihood to subscribe.
Rely on Detailed Insights
Calaméo offers statistics that enable you to track where your readers are coming from and how long they stay on each page. These insights are essential to help you identify the content that works best for your audience and ultimately use this information to grow your subscriber numbers.


Share your Content  
Consistently promoting your issues on your blog, website or social media channels is important if you want to get noticed. Readers see the value in online visibility and will subsequently be more inclined to read, share and subscribe. Check out our online tutorial on how to share and integrate your Calaméo publications online here.
Subscription forms and Pop Ups
The simplest way to begin to increase your subscriber count is to ask your audience to subscribe, it's as easy as that! Your website or blog needs to be a subscription driver if you want to reach any form of success. Adding pop up subscription forms with compelling call to actions on your website may be a nuisance to some but are often very effective in growing your subscribers!
Provide Exclusive Access
Subscribers are primarily motivated by exclusivity, in other words knowing that they are the only ones who can get this privileged information from you! Calaméo offers you the possibility to assign exclusive access to your subscribers. While exclusivity has the power to keep subscribers happy, it also has the ability to attract a lot of new readers too and can be a definite boost to your chances of growing a loyal subscriber base.
Here's how: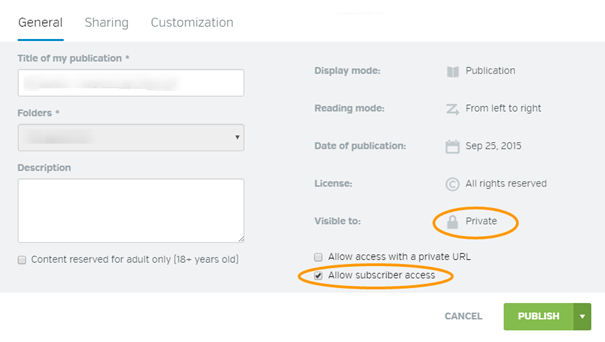 Control the Distribution
You can further control the distribution of your content on Calaméo by limiting the way your readers can obtain access to your content with individual username and password access. Calaméo allows you to assign 3 types of DRM (Digital Rights Management):
Single – the subscriber is assigned access to selected individual publications
Period – the subscriber can access all of your publications published between two chosen dates
Series – the subscriber will have access to a set number of publications published from a specific date onward.
Read more on how to manage your subscriber sessions here.
And you? Do you have other tips on how to manage and grow your magazine subscriber base? We'd love to hear them on Twitter. Tag us with your suggestions @calameo!