Chances are that everyone has heard the phrase "call to action" before. It is used frequently in marketing as a tool to generate action from consumers, whether that comes in the form of clicks, sign ups, calls, purchases, or something else. Here are three reasons why you should use a call to action (CTA) in your digital publications.
What is a Call to Action?
First, a definition! In a general sense, a call to action is a statement that encourages people to do something – or take action – about a problem. In marketing, it's a term for a word or phrase that gives your customer directions for the next step to take. CTAs are used in both traditional marketing and digital marketing. In a printed flyer or catalog you might see "Call now" or "Visit our website". On a digital channel you might be likely to see phrases such as "Click here" or "Sign up today". It could be in the form of a clickable button, banner, graphic, or text. Once clicked, the CTA redirects the user to the next step, for example a page with information about the product or a registration page. So what are the benefits of using a call to action?
1. They attract attention
The CTA is there to attract attention. If you are running a digital marketing campaign, you will most likely have specific goals for your campaign, whether it's sales or sign-ups or something else. Your CTA can help you reach these goals by directing users to take the desired action: clicking to learn more, reserving a table, starting a free trial, etc. Having this visual element will attract website visitors or publication readers so they go down the right path along the customer journey (or sales funnel). They are also useful in digital content marketing strategies.
Visitors to your website or publication should be able to recognize the CTA. You can stick with your brand guidelines and use your company's colors, or you can use a bold color that stands out from the rest of your content. Either way, you will want the CTA to be visually engaging. You can add arrows or other graphic elements to encourage clicks. Reduce the clutter around the CTA so it is very clear that you want people to click. It should also be concise, so make sure that your text isn't too long.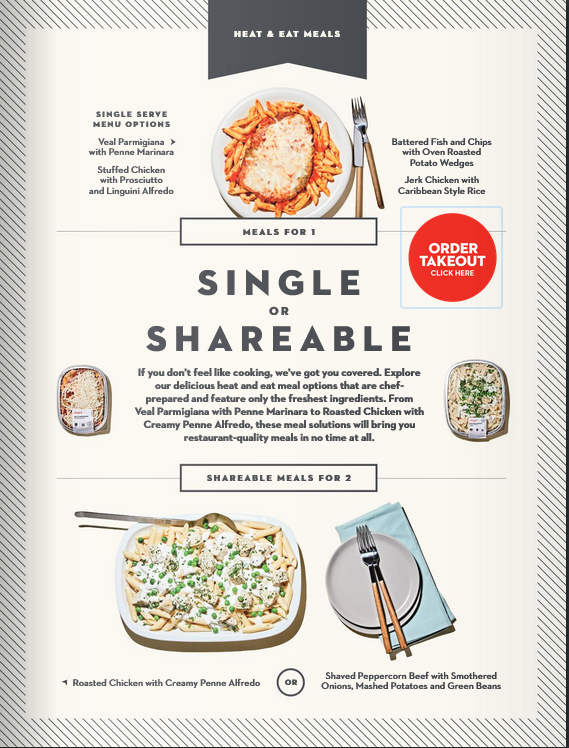 2. There is a clear path for users
A good call to action will direct the user to the right place. If there is no CTA, then it's possible that the user will just leave your webpage (or publication) without taking the next step. A strong CTA should clearly define what the result will be when the user clicks. The words in your CTA should match exactly what will happen afterwards. "Learn more" should take the user to more information, not a shopping page, for example. In the publication below, the Calaméo Magazine, we have a CTA for readers to try a PLATINUM account. Before you click, you know that you will most likely be directed to a sign-up page or a page with information about the different account options.
3. They are trackable
Another great reason to use a CTA in your publication is that they are trackable! They provide a lot of information about your audience and your campaign. You can measure whether a campaign is successful by tracking how many clicks your CTA receives. Then you can see how many of these clicks turn into purchases (or sign-ups or reservations, etc.). A strong CTA can also help boost your click-through rate.
You can find the statistics of the links in your publications on your Calameo PLATINUM account or connect your account to Google Analytics.
Adding a call to action to your publication
We've covered the "why" of CTAs, now let's address the "how". Adding a CTA to your publication is easy to do with Calaméo. Here's how: first, your CTA graphic (banner, button, or text) must already be part of your publication. Once your document is uploaded to Calaméo, simply add a link on top of your CTA using our Editor tool. This link will make your CTA clickable and will take your viewers to the desired destination. Make sure in the Label field you write a short and clear phrase that matches the existing CTA on your page. Paste your link and… voilà! Your CTA is done and ready to go.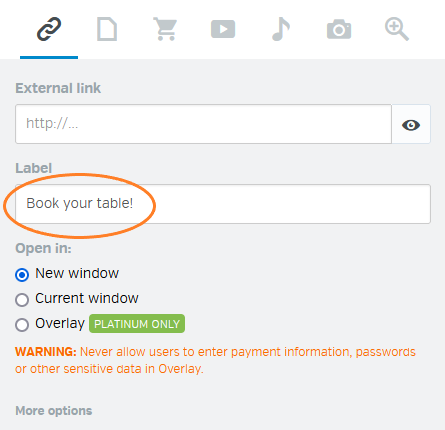 Using a call to action can make a big difference in marketing. They draw attention to your campaign, they help guide potential customers through the sales funnel, and you can easily track them to monitor if your campaign is successful. In addition, inserting a CTA in your publication using Calaméo is easy. We hope this guide to CTAs proves useful for you!