The ability to include external links is a key feature of digital publishing. For many publishers, increasing the number of readers who click on their links is an important goal. The click-through rate (CTR) of a link will tell you which percentage of total viewers clicked on it. So what are some quick steps you can take to boost CTR in your digital publications?
Start Linking
The first step to boosting your CTR couldn't be simpler: add external links to your publications! You can insert links with our easy-to-use Editor once your document has been uploaded to Calaméo. If you prefer to include links in your original document, be sure that you format them correctly and they will be automatically converted in your publication.
Consider Mobile
Did you know that over 50% of Internet users worldwide browse on their mobile devices? It's true—and means you should always check how your links look on mobile. Thanks to our HTML5 viewer, your publications on Calaméo always display perfectly on any device. For example, this page from Longo's Magazine with video and external links looks beautiful on a smartphone: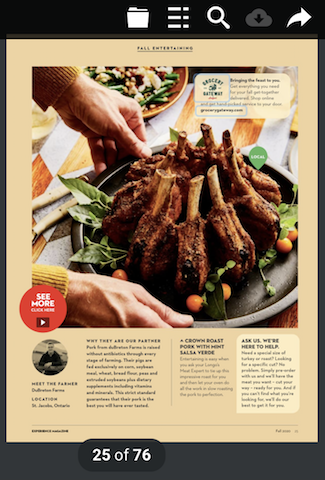 To ensure best results, we recommend opening your publication on your phone and test clicking. You may want to adjust the size of your links or experiment with custom link colors and behaviors to optimize them for mobile.
Include a CTA
Now that your readers can see all of your links as they page through your publication, it's time to tell them why they should click. In other words, you can help improve your CTR with a "Call to Action" (CTA)! A good CTA will briefly give your audience an idea of what they'll be doing once they click your link. To add a CTA to an external link on Calaméo, first open your publication in the Calaméo Editor. Next, select the link icon and type the CTA in the "Label" field.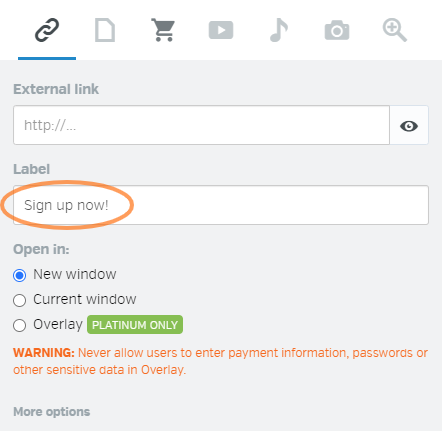 The example above shows a strong CTA for a link to more information about an event or activity. Readers will know that by following the link, they can register for the event that interests them.
Analyze What Works
Understanding which of your external links have the highest click-through rate can offer valuable lessons. Is there a particular CTA that performs better than the rest? Perhaps links placed on a specific page or even on a certain spot receive more clicks than others. With advanced PLATINUM statistics, you enjoy access to a detailed breakdown of link clicks for each of your publications.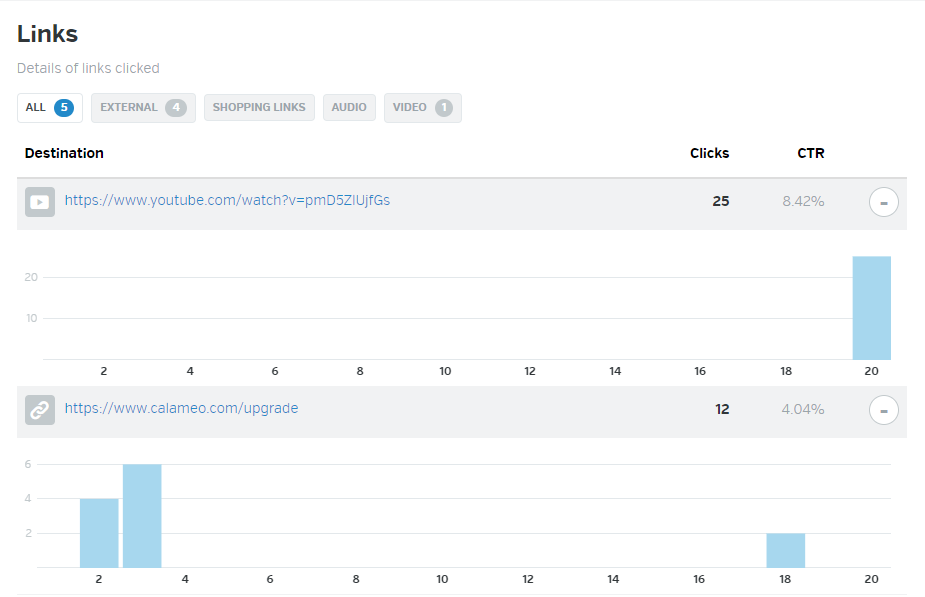 See the number of clicks on every link, including audio and video elements. Plus, the CTR is calculated for you automatically.
Equipped with these quick tips, you should in great shape to optimize your external links and boost CTR for your publications on Calaméo. Want to go even further to drive traffic to your website? Check out our post on 5 Ways to Increase Your Website Traffic with Calaméo!
---
If you have questions about your Calaméo statistics, it's no problem. Visit our Help Center for more information or write to us at contact@calameo.com anytime.