Filesharing tools have become an important part of modern digital life. Services like Dropbox store files on the cloud and synchronize them on different devices so that users can share and collaborate. However, they aren't always the best option for distributing your documents online.
In this article, we will explain five ways that these services can fall short. Plus, learn why digital publishing can offer a great alternative to filesharing.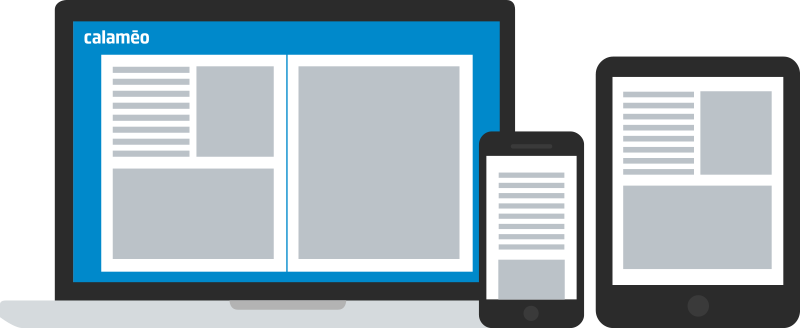 Lacks polish
Most popular filesharing services began as a tool that allowed users to work on a single file across multiple computers. For teamwork and individual use alike, filesharing is strongly associated with drafts and projects in progress. This can make it a poor choice for sharing finished work. We recommend publishing your reports, presentations and newsletters digitally for professional results.
Statistics not included
Whether you're sharing sales material with a potential customer, circulating a memo to your team or publishing a magazine, you want information about how it is being viewed. Filesharing services generally do not provide readership statistics, so you won't know if your audience has opened your document a dozen times or not at all. As an alternative to filesharing, opt for creating a digital publication on Calaméo. You'll get insights on views and a full range of advanced statistics.
Limited enrichment
Although some filesharing services let users add external links and images to their documents, the possibilities for creating interactive publications are limited. With the Calaméo Editor, you can add links, video, audio and more to your publications in just a few clicks. Then all you have to do is share!
Privacy headaches
Filesharing services often require users to choose between making their documents available to everyone and approving viewers for private documents one-by-one. Want a single, private link to send to your whole mailing list? It's easy with Calaméo. Just select "Allow access with a private URL" in your publication's Properties. If you need more security, set up password protection for your documents with our Subscribers feature.
One look fits all
Since filesharing solutions focus on drafting, editing and modifying documents, they offer few options for tailoring your publication's final appearance to your needs. Digitally published documents benefit from a dedicated viewer and on Calaméo, it's fully customizable. You can add a logo, change the colors and even add your own buttons so that your publication matches your brand perfectly.
---
While filesharing services can be great for collaboration, digital publishing is a better fit for sharing professional, interactive documents with your audience. You'll enjoy publications that look polished, smart privacy controls and advanced readership statistics. And the best part? Publishing on Calaméo is a breeze.
Sign up for free and start sharing smarter documents today!