Calaméo is a flexible tool, so personalise your content as much as possible! Tailoring your account to your brand and adding information about your organisation can increase search results and reader engagement, as well as ensuring that your Calaméo account has a professional appearance.
Here are a few tips for optimising your account:


 YOUR COMPANY NAME
Make sure your Calaméo account name is your company name, and not the person who manages the account or the email address used to create the account. This ensures that readers can find your content easily on search engines and lets them know it is your official account. The same applies to your publications – make sure the title corresponds to the cover, and is concise (with no typos!).

 YOUR AVATAR
Add your company logo as your Calaméo avatar. Same thing – but this time a visual tool for letting readers know this is your company's professional profile. It ensures the legitimacy of your account.

 YOUR WEBSITE
Fill out your account info with your website (we even have a designated box for this in your account settings). Readers can then easily navigate to your website from Calaméo. *Be sure to add the "https://" protocol so that the link opens correctly.*

 ACCOUNT DESCRIPTION
Consider adding an account description if you don't have one. This helps with search engine optimisation, and provides a context for your publications. A little introduction may encourage people to follow your work. You can also tailor this information to the audience you are aiming to connect with.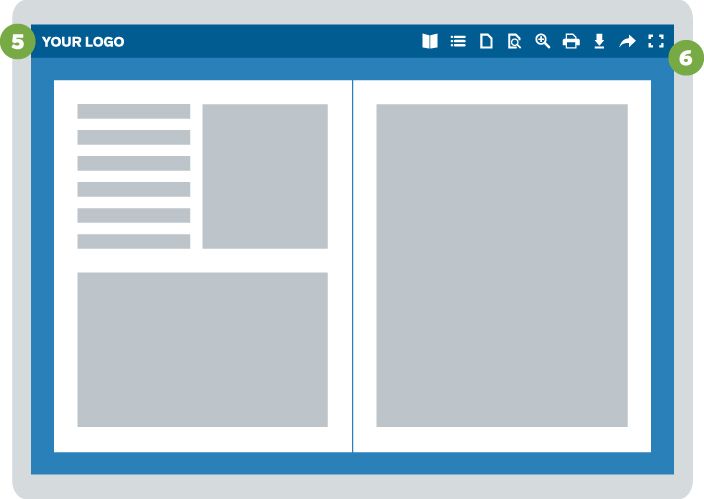 YOUR LOGO ON THE VIEWER
Add your logo to the viewer to put your own mark on your publications. People love interactive elements, so link it to your website so readers can refer to your website at any time.

 CUSTOMISE THE SKIN
Creating your own viewer skin means giving your publications your brand image. This then allows for a seamless integration in your website and a sophisticated viewing experience for your readers.
And finally…

 SHARE SHARE SHARE
Increase your readership by making the most of our sharing features for a maximum number of views: embed your publication in a webpage, create a Calaméo library widget to display multiple publications, and share across social networks.