To celebrate Calaméo's birthday, we're taking you behind the scenes and answering some of the questions we get asked most often about our company. Read on for fun facts and Calaméo FAQs about the history, the people and the etymology behind twelve years of digital publishing.
What does the name Calaméo mean?
If you've ever wondered whether the name "Calaméo" is a real word, then this one's for you. Calaméo is a portmanteau, or a combination of two words. In French, a calame refers to a type of sharpened reed that ancient Romans used to write with. Similarly, néo comes from Latin and means "new." Put calame and néo together and you get Calaméo: a new tool for writing online.
Who's on Team Calaméo?
This is a question we've seen often over the years. From developers to support, account managers to moderators, you've often been curious to know more about where we work and what we do. That's why we include a team interview in every issue of CALAMEO Mag! But here are a few quick facts if you're too busy to check out the archives: Team Calaméo includes 6 different nationalities, the youngest of us is 25 and our favorite coffee break snack is Kit-Kats.
Where are Calaméo users located?
There's an easy answer to this question: All over the world! When we talk about our global community of digital publishers and readers, we really mean global. Calaméo users can be found in 194 countries all across the world and on all 7 continents, including Antartica. Because of this international diversity, we offer Countries in your publications' viewership statistics to help you see just where your readers are coming from!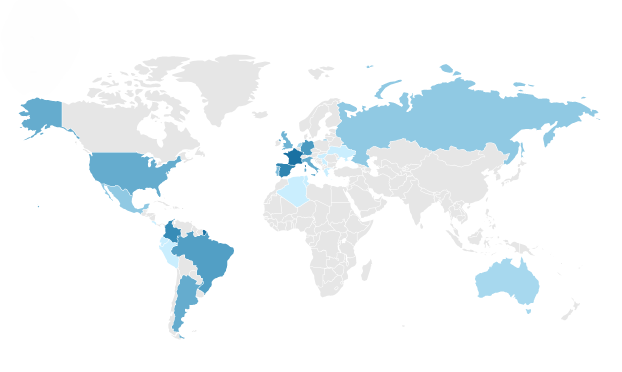 Why do I need to choose a language for the site?
All the way back in 2008, Calaméo made its debut on the web in multiple languages. It's always been important to our founders that the site be as accessible as possible. So rather than limiting the platform for example to French speakers or English speakers only, we decided to also make it available in Spanish, Portugese, Italian, German and Russian. Between them, these seven languages are spoken by more than 3 billion people around the world.

When was the site's last big refresh?
One of the most exciting parts of working at Calaméo is that we're constantly adding improvements, updates and new features to our platform. For example, custom account URLs are changing the way users build their brands on the site in 2020, while the Calaméo Editor got a complete makeover back in 2015. Although we haven't made any major changes to the look of our site in a while, stay tuned—big news is on the way!
We hope you enjoyed diving into these Calaméo FAQs and getting to know our company a bit better. We're delighted to mark another year of serving a dynamic international community of digital publishers and look forward to continuing to grow together!
---
Not following us on social media yet? Check out Calaméo on LinkedIn, Pinterest and Facebook for the latest news, reads and tips.