One of the biggest benefits of digital publishing is the direct contact any business can establish with its clients. Whether you distribute a product catalog, magazine, flyer or report online with Calaméo, you can reach your customers, prospects and a global readership all at once!
In this article, we'll explain smart strategies for using digital publishing to connect with local, national and international audiences.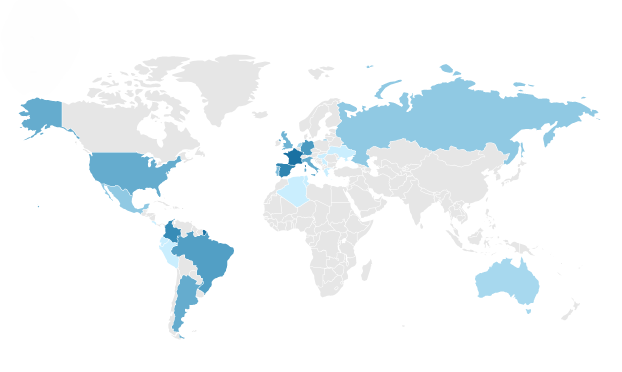 Make a local impact
As more and more people turn to the Internet for local information, creating a strong online presence for your business is essential. Publishing your documents digitally on Calaméo is a fast and simple way of making the information available to your community on the web. Plus, your publications will benefit from our high PageRank for improved visibility in search results.
Having a special event or in-store sale? When you publish your flyers and posters on Calaméo, they're instantly shareable. Post them to your social media accounts and community groups to let your neighbors, followers and customers know what's on!
Reach clients online
Catalogs and reports are valuable sales and marketing tools, but they can be challenging to use effectively. Printing and distribution are often costly while simply uploading a PDF version to your website fails to provide an optimal user experience.
Transforming your business's catalog into a digital publication takes just a few seconds with Calaméo's powerful technology. Then, you can enrich it with external links to help readers shop your products. This example from Éditions Retz takes advantage of link labels to include strong calls to action:
Embed your finished digital publication in your business's site for your clients to browse and for future clients to discover!
Target global users
Although you may already be thinking of local and national audiences for your business, publishing digitally also offers international exposure. For example, Gruppo Food's Italian Taste Journey series introduces food lovers everywhere to the specialties of different Italian regions.
Our advanced statistics show where your readers are located globally, so you can identify which places around the world are interested in your publications. If the results surprise you, it could be an opportunity for growth! You might consider tailoring your content to this international audience, or adjust your advertising.
💡 TIP: BASIC and PREMIUM accounts can see their readership's top three countries, while PLATINUM accounts can dig into the full list!
With these tips for communicating with different types of audiences, you'll be well-equipped to get the most value out of digital publishing for your business.
---
Interested in testing the full range of readership statistics on Calaméo? Our no-commitment PLATINUM Demo is free for 14 days. Let us know if you'd like to try it!