From city skylines to our own mobile phone screens, logos are a major presence in modern life and a key part of any business's brand. But did you know just how old logos are? Their history goes back to the Middle Ages, when British pubs were required by law to identify themselves with an illustrated sign.
After the invention of the printing press in 1439, logos quickly made the jump onto the page and appeared in printers' marks, classifieds, products and ads. Although many classic logos like the vintage Coca-Cola script are still used today, digital technology allows logos to do more than ever.
In this article, we'll reveal three easy ways to put your business's logo to work on your digital publications.
ONLINE REACH
The most important place that your logo should go is in your digital publication! Since Calaméo's fun, immersive flipbook format allows readers to focus on your content, including your logo on the page creates stronger impact for your brand.
Be sure that your logo figures prominently on your publication's cover, like in this example from AvidGolfer magazine. You'll want it to be visible when sharing your publication on social media to enjoy maximum reach in your audience's feeds. Plus, you can get even more exposure if your publication is selected for the #CalameoCoversClub!
IMPROVED VISIBILITY
Next up is your publisher account page on Calaméo. You can effortlessly add your logo as a profile picture by uploading a .PNG or .JPG file up to 5 MB. (Have an animated version of your logo? You can even use a GIF here for a little extra pizzazz.)

Displaying your business's logo on your Calaméo profile gives it a professional look, but filling in details of your account page also comes with SEO benefits. In just a few minutes, you can polish up the account name, description, logo and website and make it even easier for readers to find your publications.
DIGITAL SIGNPOST
Last but not least, add your logo to our viewer so that it becomes part of the reading experience. With our PREMIUM and PLATINUM plans, you can include a logo and link to your website. Not only is doing so great UX, it also supports your lead generation strategies and helps drive traffic to your site.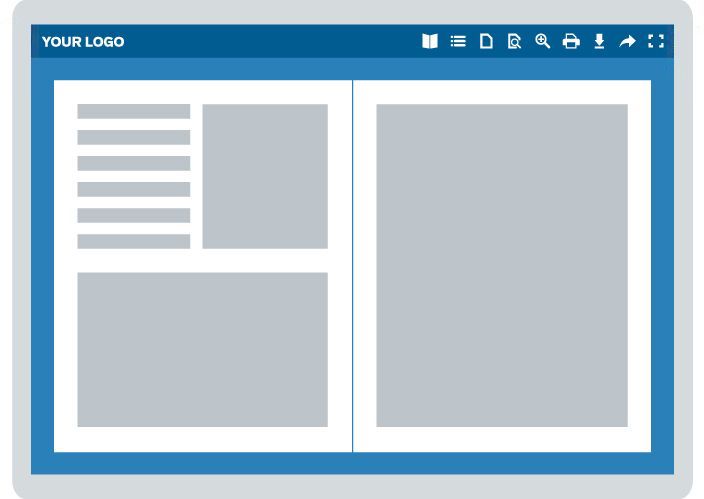 Users can always move smoothly from reading your publication to checking out your site, without having to enter your URL or hit the back button in their browser. All thanks to your logo!
💡 TIP: To remove our logo from the viewer, upgrade to PLATINUM today and start publishing in White label.
With these three quick and easy ideas, you should be all set to start using your logo in digital publishing to boost your brand.
To take the next step, consider creating a custom Skin for your publications. You'll be able to match every detail of the Calaméo viewer to your business's visual identity, get creative with your logo and more.
Head on over to our new CALAMEO Magazine to see how dynamic a custom Skin can be!
---
For more information on all things Calaméo, browse our Help Center. You'll find the complete documentation on customizing the viewer Skins on our Developers page. Don't hesitate to get in touch if you have questions! Our Support team is standing by at contact@calameo.com to help as quickly as possible.