There's no denying that building a subscriber base for your magazines, catalogs or professional content requires a lot of hard work. In fact, standing out is a big part of the challenge to grow your subscribers!
In this article, we'll explain the strongest strategies for attracting subscribers to your publications. Plus, get tips on how to manage them with ease using Calaméo.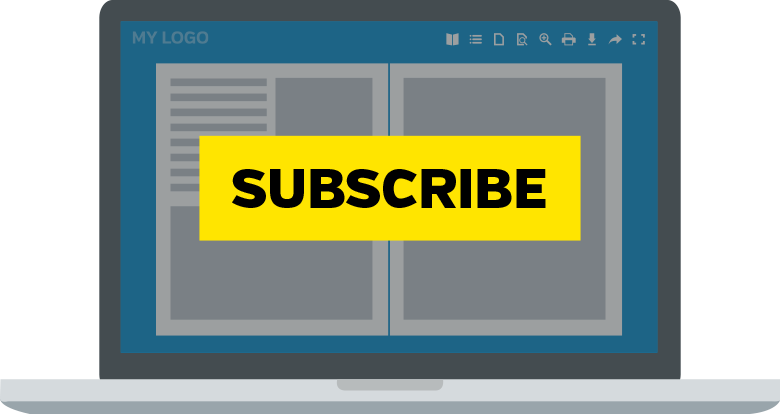 Use Digital Publications
Because more and more people access their content solely online, it would be unwise not to have a digital presence for your magazine.
Calaméo offers an excellent Platinum plan that enables you to convert your print publications into multimedia digital publications. Designed specifically for professional use, its exclusive interactive features help to enrich your documents and set your publications apart from the rest. Getting creative with your digital content will make it more engaging and more likely to draw new subscribers.
Adapt your content to your audience
First and foremost, your magazine must be seen as a valuable source of content to your audience. Therefore, be sure that your publications are targeted specifically to your readership. For example, the Washington Post was able to grow its 'digital only' subscriptions 145% in just one year. This rise was partly due to the fact that it broadened newspaper's opinion and politics coverage, two areas that the Post's subscribers were particularly interested in.
Be consistent
No matter what the theme of your content, your readers still need to know that it is coming from you. You can achieve this by making sure that your content and visuals maintain the same look and feel of your brand.
To put these measures in place using Calaméo, insert your brand logo and upload a consistent and professional background image in your publication viewer. Such steps will help to make your digital publications more professional, inviting and trustworthy. And as a result, you'll increase their potential to grow your subscribers.
Rely on detailed insights
Calaméo provides statistics that let you see where your readers are coming from and track how long they stay on each page. These insights are essential to identify the content that works best for your audience. Once you know what engages your readers, you can build on this information to improve your subscriber numbers.


Share your content
If you want to get noticed, consistently promoting your publications on your blog, website or social media channels is important. Readers see the value in online visibility and will subsequently be more inclined to browse, share and subscribe. Need ideas on how to develop your strategy? Check out our Digital Publisher's Guide to Social Media for tips and trends.
Subscription forms and pop ups
The simplest way to add to your subscriber count is to ask your audience to subscribe. It's as easy as that! In order to achieve growth, your website or blog needs to be a subscription driver. Although pop-up subscription forms on your website may be a nuisance to some, they are often very effective in increasing subscriptions. Create a compelling call to action for best results.
💡 TIP: Did you know you can include forms in your Calaméo publications? Learn more in our Help Center.
Provide Exclusive Access
Never underestimate the power of exclusivity to grow your subscribers. In other words, subscribers value knowing that they are the only ones who can get this privileged information from your content! Calaméo offers you the possibility to assign exclusive access to your subscribers. While exclusivity can keep subscribers happy, it also has the ability to attract a lot of new readers and can give a definite boost to your chances of building a loyal subscriber base.
Here's how: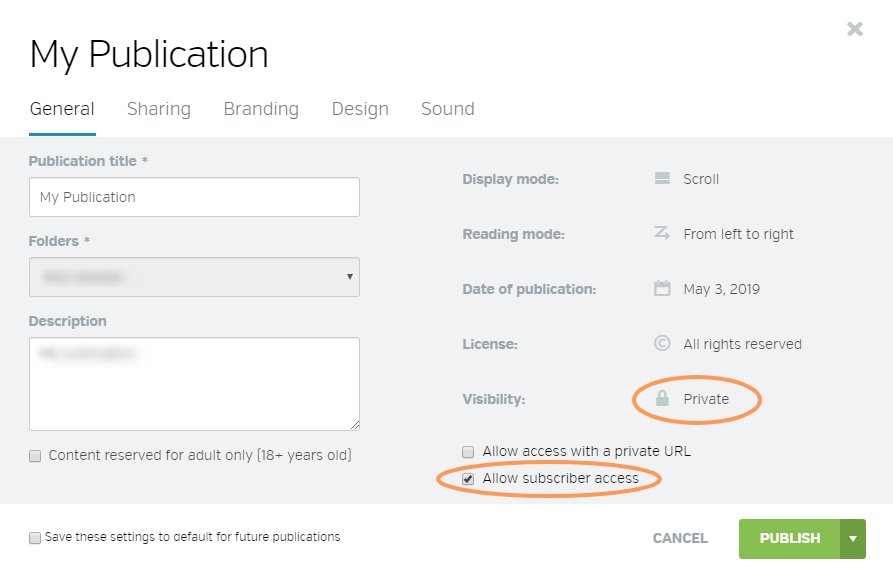 Control the Distribution
You can further control the distribution of your content on Calaméo by limiting the way your readers can view to your content with individual usernames and passwords. Calaméo allows you to assign three types of access:
Single – the subscriber is assigned access to selected individual publications
Period – the subscriber can access all of your publications published between two chosen dates
For example: all publications between January 1, 2020 and January 1, 2021
Series – the subscriber will have access to a set number of publications published from a specific date onward
For example: 12 publications beginning on January 1, 2020
Read more on how to manage your subscriber sessions here.
---
For more tips and ideas to inspire your digital publishing, have a look at our review of the year's top strategies.