If you're publishing digital documents on Calaméo, you probably have goals for them. Maybe you want to raise awareness about your brand and reach more people with your publications. Or maybe you want to drive traffic to your website and increase sales. Whatever your goals, it's important to evaluate how your publications are performing. Establishing the right digital publication KPIs can help you get started.
In this article, we will explain the most important key performance indicators, or KPIs, for your digital publications and how to track them.
Views
The first KPI to watch for your publications is the number of Views they receive. While views can be a valuable measure of how many impressions your publications are making, views alone may not tell you the whole story. For example, a high number of views may not indicate better performance for a private publication meant to be shared with just a few sales prospects.

It's essential to consider other relevant factors, too. You may also want to take the average number of pages viewed into account when tracking your publication's views. Available in the Page Views section of your Calaméo statistics, this metric allows you to see how much of your publication readers tend to browse and appreciate the impact of its views.
Link clicks
Another KPI that matters to digital publishers is the number of times the links in their online documents are clicked. The ability to add and track external links with ease is a major advantage of creating digital publications and we've already discussed smart ideas to help boost your click-through rate on Calaméo. Calculating the CTR of all your links on Calaméo couldn't be simpler—our advanced statistics give you the full picture, including a breakdown for video, audio and shopping clicks.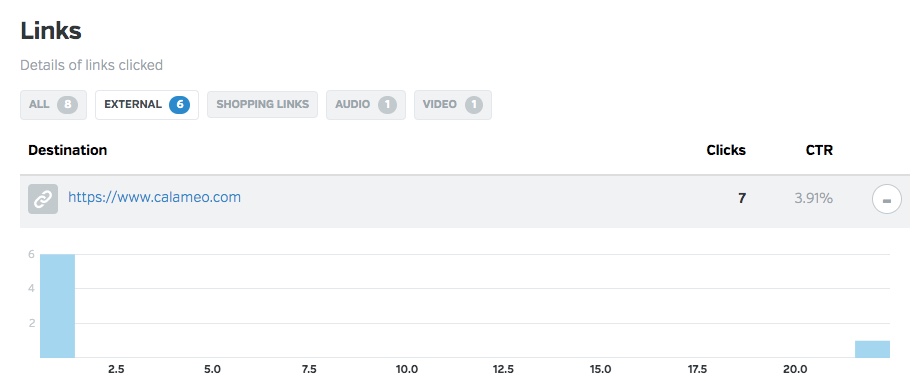 Clicks reflect your audience's interest in learning more from your link, but any business with a digital sales operation will also want to know if those clicks lead to purchases. Luckily for our users, you can connect your Calaméo account to Google Analytics in no time to start following conversions from your publications.
Engagement
The final KPI to keep an eye on is your audience's engagement with your digital publications. Depending on the type of audience you are targeting, the most meaningful statistics to measure engagement can vary. You may want to track the success of the ways that you promote your digital publications, like social media posts or email campaigns. You can also monitor the comments, favorites and shares that your publications receive right here on Calaméo.


However, other indicators may be more important for digital publications that help you generate leads. Note how many incoming contacts you receive via pop-up forms and contact buttons in your publications. Then how much time readers tend to spend with each publication and review the number of downloads it has to understand their interaction with the content. The more engaged your leads are, the better!
Whichever digital publication KPIs you decide to track, consistency is crucial. Be sure that you break out the numbers regularly—monthly, weekly or even daily—and analyze the trends. (Did we mention that PLATINUM users can access the all-time history of their statistics on Calaméo?) Up and running with the basics? There are plenty of other insights like source information, device and audience location stats to explore as you work toward achieving all of your digital publishing goals.
---
You can enjoy access to unlimited statistics for 14 days with our free PLATINUM Demo. It's completely free to sign up and no credit card is required to try out our professional publishing features.